Why spend tons of money at spas for facial? while you can do it anywhere within minutes with the Ultrasonic Cordless Skin Scrubber!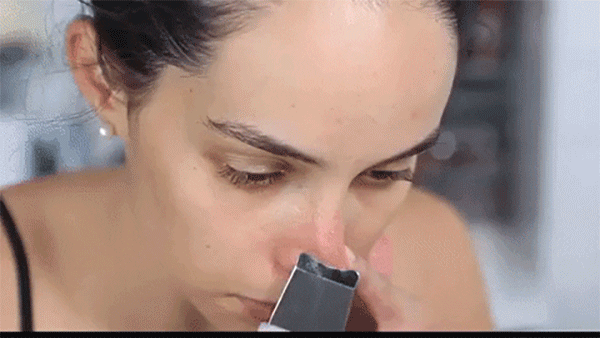 Ultrasonic Skin Scrubber is a deep cleansing device that produces 24,000Hz per second of ultrasonic waves that effectively loosen clogged pores, painlessly exfoliates the skin to remove dead skin cells and infuses your favourite skincare product.
Features:
💧 ULTRASONIC SCRUB: High-Frequency vibrations to exfoliate dead skin effectively. You can quickly remove the blackheads, dead skin, dirt and oil in your pores.
💧 DESINCRUSTATION: Deep cleansing treatment that softens sebum, break down melanin and blackheads. Clean your pores thoroughly, eliminate aging of the stratum corneum and blackheads, dead skin, oil and make-up dust, etc.
💧 IONTOPHORESIS: Help penetrating skincare product under the skin, leading-in nutrition quickly, improve skin absorption capacity to anti-aging and reduce wrinkles.
💧 SWEET AND LIGHT: Light electric blackhead removal, easy to carry. In 3-4 hours fully charged, it may last a week. A perfect gift for family or friends.
💧 WARRANTY: All the products come with a full one year warranty against manufacturer defects. Our customer service team will handle all your inquiries within 12 working hours.
How Often:
The suggested operating time is between 10 and 15 minutes. More than likely, you will want to start with one 10-minute treatment, 4 times a week to start, unless otherwise directed by a doctor. Once you have achieved your initial goals, you will, more than likely, want to drop down rousing the device only twice a week.
How to use?
1. Dampen your face. Use steamer or hot towel to open the pores.
2. Press "ON/OFF" to turn on the device. Press the Continuous mode button and then Minus button for Desincrustation.
3. Press the Continuous mode button then Plus button/ Press the PAD Mode button for Iontophoreesis.
4. Place fingers on both side Electrodes and touch the skin with the spatula to complete the current.
5. Orient the spatula angled edge down and move down across the skin for cleaning/ flat side against the skin and move for pad mode.
6. Apply nourishing cream or mask.
Included:
1. Main Unit X 1
2. USB Cable X 1
3. Full detailed English manual/instructions X 1